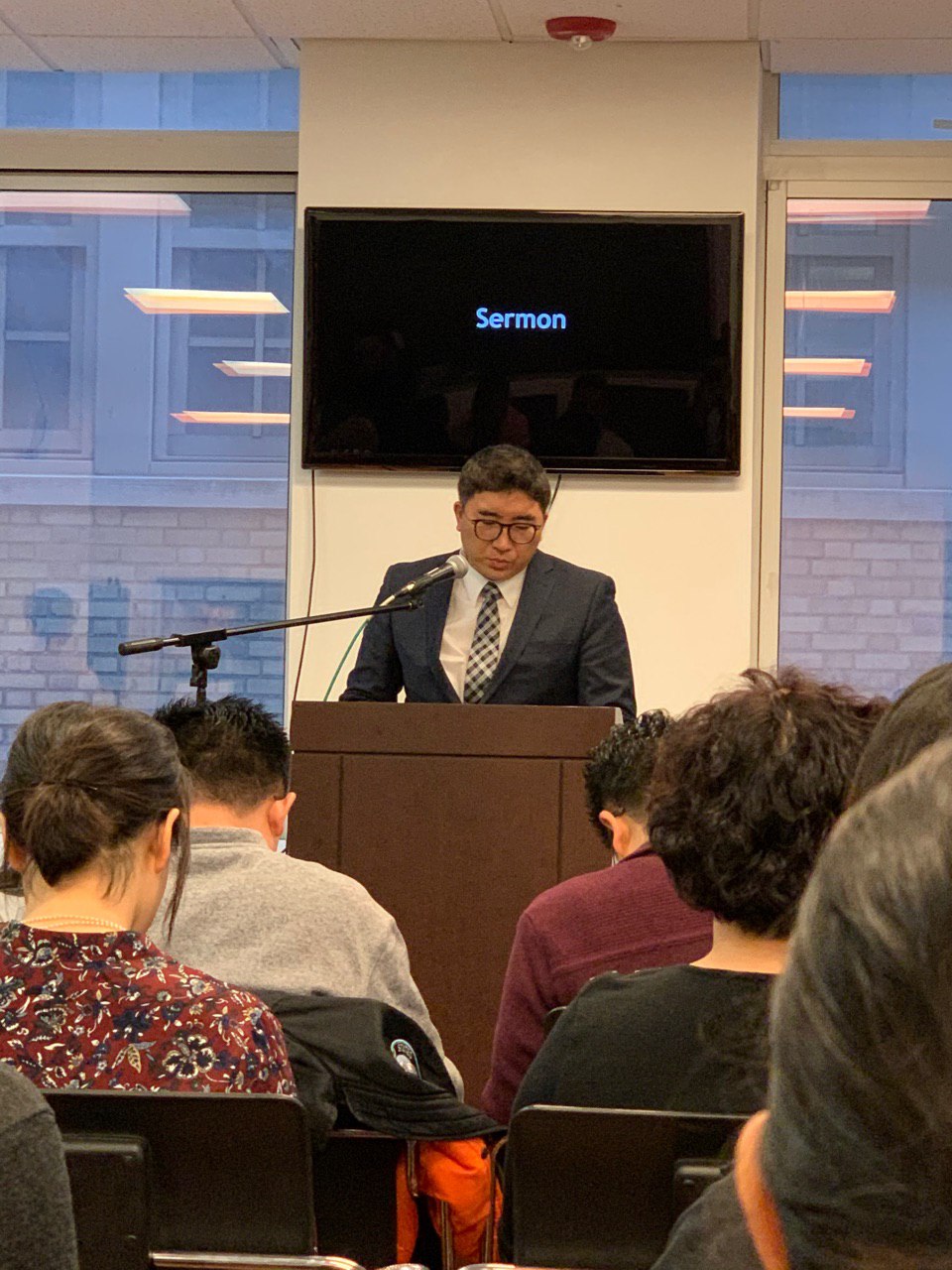 NYC Immanuel Church holds a graceful Sunday Service. After the Sunday Service, members had a table fellowship. Below is the summary of today's sermon.
Luke 8,19-25 [Where is your faith?]
The first ministry of Jesus was the ministry of Teaching. When Jesus was teaching, Jesus family came to see Jesus but they couldn't meet him as he was surrounded by the crowd. When he got the message that his mother and his brothers came to meet him, he says "those who hear God's word and put it into practice are my mother and brothers." After that, he left the crowd behind and went to the other side. Jesus is very good at leaving behind. Not only Jesus but his disciples also were good at it. When Jesus called Matthew, he stood up right away and followed Jesus. This was the same with Peter. Peter left his net and his father and followed Jesus. When they abandoned what they valued they must have confessed in themselves that the value of the Kingdom of God and my value cannot be compared. With this strong conviction, they would have confessed, "I will not replace this value with anything else."
They would have started this path putting their faith in this verse "Seek first his kingdom and his righteousness and all these things will be given unto you." Having this faith, they abandoned their family and job and their values. But the reality was that they are now about to be drown and die. They were following Jesus for greater purpose but they are now about to die. When they confessed they want to follow Jesus, they must have great joy in them. Expecting the rest in God, now they face a storm. This unexpected things are happening to them and they are now giving this responsibility to Jesus. When they abandoned, they must have expected something special will come along additionally. But one the contrary, we can see here in this scene that it is not happening. When we are following Jesus, dedicating my life to him, they would have said to them "why is this kind of thing happening to me?"
We can see here how Jesus is reacting to this situation. He is saying " Where is your faith? He is not saying this to the crowd, who is only pretending to follow Jesus. Who didn't abandon and also don't expect anything but to those who believe in Jesus who put their most precious value in Jesus. He is saying those who can say the words of faith don't need to fear. The path you are taking is not the path that will be stopped just because of the storm. You can be shaken and you can fear but it cannot be stopped by the storm. When we are believing diligently and following Jesus well,  because of your diligence, when you are putting your faith in expectation of something that will come along in addition to your faith, then Jesus will ask you "where is your faith?"
Jesus here is letting us know what it means to win by faith. Can we win storm by faith? We surly cannot. But what the disciples learned is the fact whether they die or not the kingdom of God has nothing to do with it. The Kingdom of God will last forever. So what? We just ought to do the things we can do.